Broncos want to overcome the rough spots
The bottom line in any NFL season will always be what happens in the season's final game.
And what happens in any of their four preseason games in the new season can't wash that away, no matter how much August optimism is wrapped around it all.
Still, for a team that watched its title hopes in back-to-back seasons swept away when they couldn't bounce all the way back from bad things that happened to it in the games that ended those seasons, the Broncos are going to take a little solace when they show that bounce-back ability at any time, even in a preseason game like Thursday night's.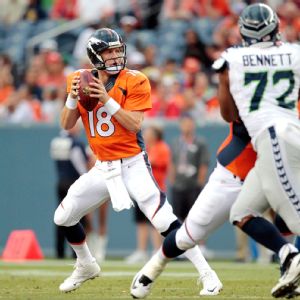 They rolled the dice a bit, using a preseason game for what a preseason game is for — to work on stuff — when they opened their first possession on offense in power looks.
That touchdown drive was longer, in elapsed time, than any touchdown drive the Broncos had in all of 2013.
The fact that we were able to overcome some penalties and still get a touchdown drive — I always talk about getting situations to occur in the preseason — that's something that you want to be able to overcome in the regular season.
Early in the third quarter, the Broncos also overcame a sequence of penalties on four consecutive plays, a feat that would have been far more difficult, facing a first-and-35 situation, had they not been bailed out by a pass interference penalty on Seahawks' cornerback Jeremy Lane in the fifth play of the sequence.